Egyptian papyrus book:
A rare Egyptian papyrus book, 17.40 metres in length, was sells Monaco for the sum of 1.35 million euros.
On Saturday 6 October, the Monte Carlo Auction House organized a sale of two hundred lots from ancient Egypt.
The complete Book of the Dead for Horwedja, dating from 594-588 B.C and made of papyrus, fetched the largest sum by far. Complete with 192 chapters, the text is written in hieratic script using black ink, with titles and important sections written in red ink.
A book of spells:
Books of the Dead are collections of up to 200 magical spells, which the ancient Egyptians placed in their tombs in order to help the deceased pass through the dangers of the Underworld and reach the afterlife.
Each spell in this Book of the Dead is illustrated by one or more vignettes, with about 227 vignettes in total, drawn and painted in black and red.
Special scribes would prepare the texts and sell them to a prospective owner who would later add their name in the spaces.
This papyrus was first drafted for another person, probably a close contemporary of Horwedja, but their name had been systematically erased and replaced.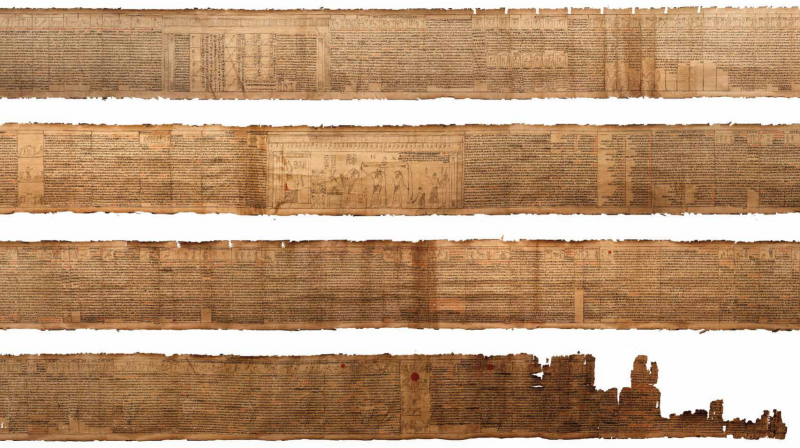 The papyrus is part of the "Saite Recension" a title given to Books of the Dead dating from the 26th Dynasty onwards.
Very few manuscripts can be dated to the Saite Dynasty, there are fewer than twenty surviving 26th Dynasty Books of the Dead, in contrast to some four to five hundred manuscripts dated to the Ptolemaic Period.
This makes the auctioned papyrus book extremely rare.
Condition:
Overall, the book is in very good condition, except for one small section.
Originally, the papyrus roll was wrapped in a fabric which covered and protected it.
In several places, insect activity created holes in the rolled papyrus, which was then mended with ancient repairs.
There are visible rectangular patchwork pieces added to the back of the scroll.  All the affected areas were corrected long ago, except for one vignette.
The Book of the Dead was put up for auction from the private collection of an amateur French collector of Egyptology, who had acquired it in the 1960s. The private collector who obtained the rare and valuable piece of history made their offer by phone and remains anonymous.